In June, my memoir, 'The Moss of Cree, A Scottish Childhood', will be published by Firefallmedia in its "Highland Sea" series after the success last year of 'Largie Castle, a Rifled Nest', which was featured in 'Scotland Magazine' and serialised in The Courier (Dundee) from 15 May - 15 September.
'The Moss of Cree, a Scottish Childhood', set in the 50s and 60s, is about my early life on a dairy farm situated close to the banks of Wigtownshire's River Cree, not far from Newton Stewart and Wigtown.
In this book, I describe weird and wonderful experiences where I was allowed a freedom that today's kids can only dream of. Day upon day, in both summer and winter, I played outside with my sisters and brother, amongst cows, calves, milk churns, mud, hay and dung. My narrative is full of natural dangers, spiky settings and confusing encounters. Added to hazards in the farmyard, midden and barn, we faced other trials when confronted by terrifying school teachers, the surly tramp and a roguish blacksmith, who doubled up as a successful salmon poacher.


Ordering
You can order the book from Waterstones or Amazon.
To get it in advance of publication with free shipping and a 25% discount, pre-order a copy (200 pages with 18 illustrations) from Firefallmedia's website:
www.firefallmedia.com/moss-of-cree.html




Wigtown Book Festival: 21 - 30 September 2018
Come to this year's Wigtown Book Festival, where I shall be talking about my book and what prompted me to write it.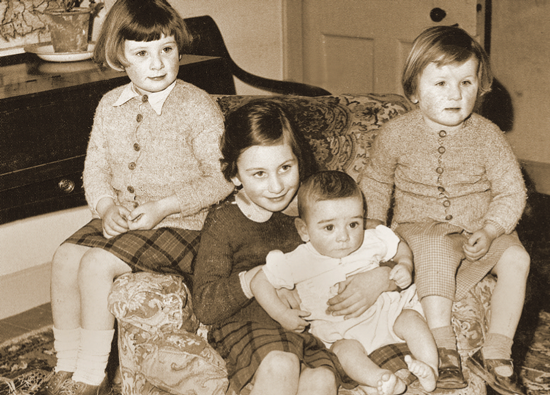 Mary Gladstone in the centre of her siblings.